Reading Time:
10
minutes
When comparing the initial three quarters of the year to the final one, it becomes evident that Q4 significantly surpasses in terms of sales and rush.
Reason? Black Friday & Cyber Monday.
This is the time of the year when eCommerce businesses stretch out to achieve their maximum sales. Starting from Black Friday and extending through Cyber Monday, businesses are all in to stand out and get those sales.
Statistics suggest Cyber Monday 2022 broke records with $11.3 billion in online spending, a 5.8% increase over 2021.
This suggests two things – customers' growing expenditure capacity & customers' growing trust in online shopping. Nevertheless, it is an unmissable opportunity for eCommerce businesses to tap into this scope of sales.
Statistics show, eCommerce businesses are experiencing 3X growth in sales and revenue by strategically planning out their Holiday Season in advance. We're excited to offer our comprehensive guide for planning your BFCM marketing strategies. Click the link below to download our eBook now.
In this blog, we will discuss how to effectively draft and design your Black Friday and Cyber Monday marketing strategies to boost your sales.
What Is Black Friday for eCommerce?
Black Friday is a significant shopping event that takes place annually on the day following Thanksgiving Day and has gained significant popularity in recent years as online shopping has become increasingly prevalent.
During Black Friday eCommerce, online retailers offer substantial discounts, promotions, and special deals on their websites. This event has the advantage of allowing shoppers to access these discounts without the need to visit physical stores, avoiding the long lines and crowds associated with traditional Black Friday shopping.
The concept of Black Friday eCommerce has also evolved to include the following days, such as Cyber Monday, which is focused on online deals and promotions. Together, Black Friday and Cyber Monday have become a major shopping period, not only in the United States but also globally, with many online retailers from different countries participating in the event.
Black Friday eCommerce has led to a surge in online sales and has played a significant role in shaping the way people approach holiday shopping, emphasizing the convenience and accessibility of online shopping platforms.
15 Black Friday Marketing Strategies & Ideas for eCommerce
To move up the ladder of increasing online traffic, and to attract the customers swiftly with the exciting deals and offers, have a look at these sure-fire black friday ideas for ecommerce.
1. Dissect Your Q4 Into Phases
The power of formulating a plan into phases is incredible. That's what you need to achieve and even surpass your revenue goals this Holiday season. Plan well, and plan in advance. Divide your Q4 into phases like a funnel.
I. Before BFCM
As you prepare for the Black Friday and Cyber Monday rush, conduct a thorough research on your target audience and understand your brand's shortcomings. Study your inventory, your best-selling products and analyze which products have been revenue-generating for your brand throughout the term. Plan your offers and discounts accordingly and market them efficiently.
II. During BFCM
This is the time when your store's traffic is at its peak. Make the most of it by creating a sense of urgency and boosting more impulsive purchases through effective marketing.
III. Post BFCM
This is the phase when brands and businesses can attain some last-minute sales. Many brands miss out on this phase as it falls after the enormous 'Black Friday' and 'Cyber Monday' events. By staying active and extending their offerings longer, businesses can make some real profits.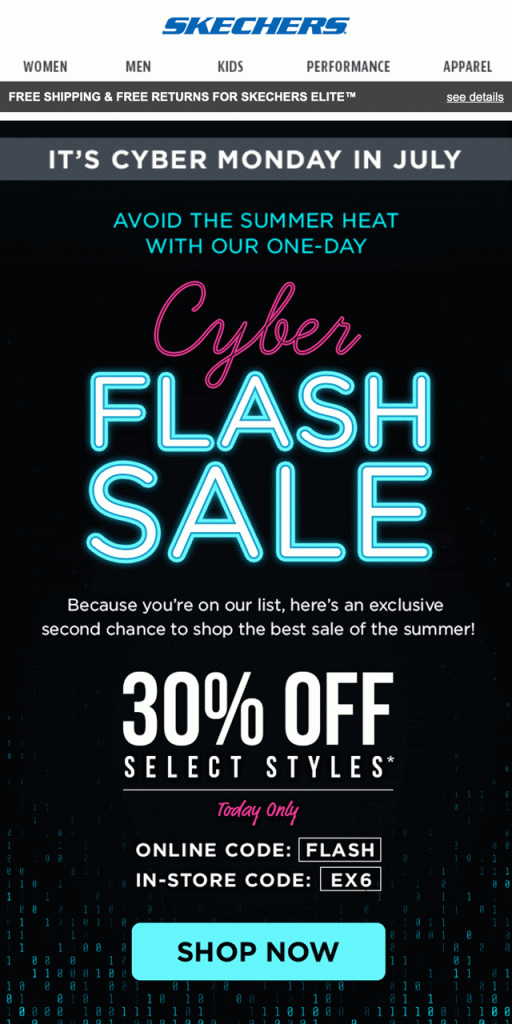 Image Source: Skechers
2. Launch Flash Deals
What's better than surprising your customers with exciting and attractive deals and offers every hour?
One of the most popular Black Friday marketing tips that cheer them up and encourage them to revisit your online store frequently to avail of the offers. While rushing off their feet by getting involved with the changes in offers now and then, brands can also promote flash deals.
Such deals help in creating a sense of urgency and victory for the customers. Besides that, it helps the brand stay on top of the game, and in-buzz among their potential target audience.
3. Integrate Social Media
Social media is a powerful tool for engaging with your audience and creating hype around your eCommerce Black Friday promotions.
According to studies, over 53% of American shoppers use social networks to purchase for sales holidays like Black Friday. 
Start building excitement well in advance by posting sneak peeks of upcoming deals, and countdowns to the Black Friday event. Use eye-catching visuals and text to capture your audience's attention.
Collaborate with relevant influencers in your industry to promote your Black Friday deals. Influencers can help you reach a larger audience and lend credibility to your offers.
4. Create A BFCM Landing Page
A dedicated Black Friday/Cyber Monday landing page is essential for driving traffic, informing customers about your offers, and improving the overall shopping experience. Here's how to create an effective BFCM landing page:
Create clear and compelling texts that conveys the value of your deals.
Feature your most attractive Black Friday deals prominently on the landing using high-quality images.
Design a user-friendly layout with intuitive navigation and add actionable CTAs for immediate conversions.
Display social proof such as security badges, customer reviews, and return policies to instill confidence in potential buyers.
5. Create A Segmented Email List
Segmenting your email list is a crucial strategy for optimizing your Black Friday eCommerce marketing efforts. By categorizing your subscribers based on their preferences, purchase history, or demographics, you can tailor your email campaigns to deliver highly relevant content.
Craft personalized messages that resonate with each segment, showcasing Black Friday deals aligned with their interests. Segmentation allows you to send targeted promotions, increasing the likelihood of engagement and conversions.
Whether it's offering exclusive discounts to loyal customers or highlighting specific product categories based on past interactions, a segmented email list enhances your chances of delivering impactful Black Friday offers.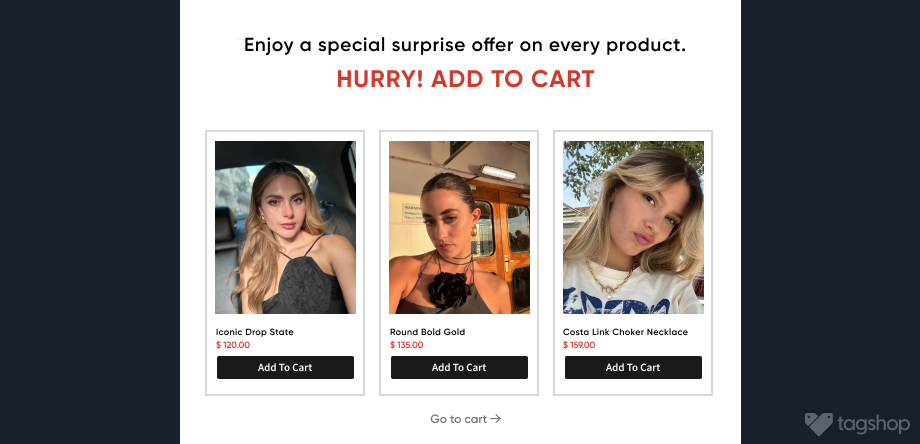 6. Launch BFCM Exclusive Products
Black Friday presents an ideal opportunity to launch exclusive products or unveil special offers that are only available during the BFCM period. Creating a sense of urgency and exclusivity can drive customer excitement and boost sales.
Showcase these unique offerings prominently on your website and in your marketing materials. Additionally, focus on best-sellers by offering compelling discounts or bundles, incentivizing customers to make a purchase.
By strategically curating a mix of exclusive items and well-loved products with attractive deals, you create a compelling shopping experience that entices customers to explore and buy.
7. Check Your Website's Health
No matter how solid your strategies are, if your eCommerce store is not in an optimal condition, your efforts are in vain.
It is observed that webpages that load within two seconds see a bounce rate of 9% whereas, webpages that take longer than five seconds see their bounce rates skyrocket to 38%.
Before the Black Friday rush, ensuring that your website is in a flawless state to handle increased traffic and transactions is essential. Perform thorough checks on your website's speed, functionality, and overall user experience. Address any potential issues that could lead to slow loading times or glitches during peak shopping periods.
Conducting stress tests and optimizing your website's performance can help prevent potential technical disruptions and provide a smooth shopping experience for your customers, ultimately leading to higher satisfaction and conversions.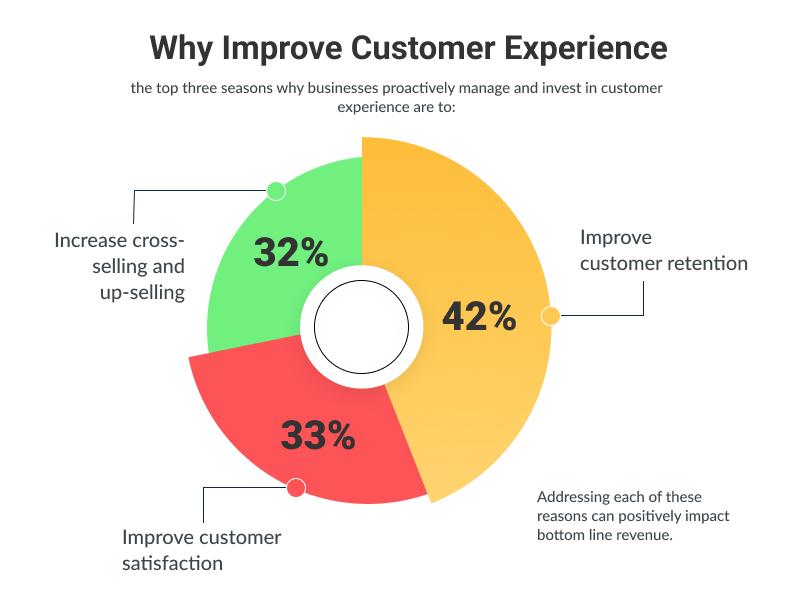 8. Leverage eCommerce Tools To Improve Customer Experience
For businesses, Black Friday is a highly yielding time. But, every customer has a different requirement and idea of what contributes to a good shopping experience. Which is why, eCommerce businesses and brands can, seriously, leave no stone unturned to improve the customer experience.
Leveraging eCommerce tools can help in enhancing the overall experience. Here are some tools you can rely on:
Tagshop is an effective social commerce platform, especially beneficial for eCommerce stores. It can help collect and curate social content from platforms such as Instagram. With its social commerce features, you can easily integrate this content into your homepage, product pages, or emails and turn them shoppable. This way, you can improve your customer experience considerably, simplifying product discovery for your customers.
Omnisend is a top-rated email marketing tool for eCommerce. With Omnisend, you can easily plan and manage your email marketing campaigns. You can automate emails by creating a list of your target recipients and track open rates and other important insights easily. With this tool in the picture, you can reach out to your potential customers and showcase them products they want to see.
Salesforce is a top Customer Relationship Management software. It helps businesses of every size to manage leads and easily follow up on them, identify key contacts and sales opportunities. With Salesforce, you can track emails and sync key info right from your inbox. These features can help in improving your customer's experience.
9. Go Big On Ads
Black Friday is a prime time to amplify your advertising efforts and reach a wider audience. Invest in strategic digital advertising campaigns across various platforms, such as Google Ads, social media platforms, and display networks.
Craft compelling ad creatives that highlight your best deals and exclusive offers. Implement targeted audience segmentation to ensure your ads are reaching the right demographics and user behaviors.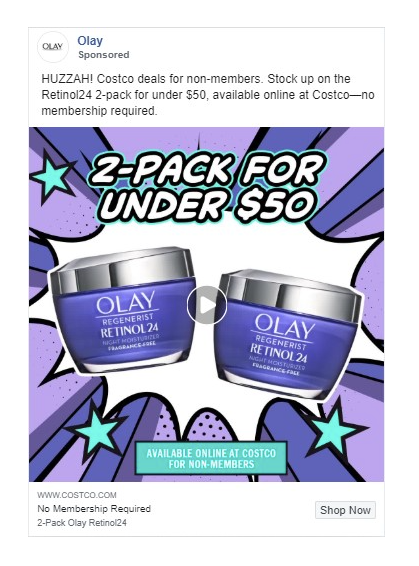 Image Source: Olay
Consider retargeting campaigns to re-engage users who have previously interacted with your brand. Allocate a significant portion of your marketing budget to advertising during the Black Friday period to maximize visibility, drive traffic, and ultimately boost sales.
10. Offer Bundle Discounts
Bundle discounts can be a powerful black friday eCommerce strategy to entice customers to purchase multiple items while saving money. Create bundles by pairing complementary products or featuring related items that align with popular Black Friday categories.
Clearly communicate the value of the bundle by showcasing the total savings customers can enjoy.
Additionally, offer tiered bundles where customers receive a higher discount for purchasing more items. This encourages larger transactions and can help you move inventory.
Promote bundle offers prominently on your website and within your marketing campaigns to incentivize customers to take advantage of these attractive deals. By offering bundle discounts, you not only increase average order value but also provide customers with a convenient way to discover new products they might not have considered purchasing individually.
11. Make Navigation Easy
Simplifying the navigation on your website is essential for a successful Black Friday eCommerce strategy. Organize your product categories logically and prominently display them in your website's main menu.
Use clear and concise labels that resonate with your target audience. Implement drop-down menus or mega-menus to help visitors quickly find the products they're interested in.
Additionally, integrate a prominent search bar with auto-suggest functionality to assist users in finding specific items. Minimize clutter and distractions by keeping your navigation menu clean and uncluttered. By making navigation intuitive and user-friendly, you enhance the overall shopping experience and reduce frustration, leading to higher engagement and conversions.
12. Optimize Mobile Commerce
With a significant portion of Black Friday shopping taking place on mobile devices, optimizing your mobile commerce experience is paramount. Ensure your website is fully responsive, adapting seamlessly to various screen sizes and orientations.
Statistically, mobile e-commerce sales reached $2.2 trillion in 2023 and now makeup 60 percent of all e-commerce sales around the world.
Streamline the mobile checkout process by minimizing the number of steps required to complete a purchase. Implement mobile-friendly payment options, such as mobile wallets and one-click checkout, to expedite the transaction process.
Use larger buttons and clear calls to action to make navigation easy on touchscreens. Test your mobile site thoroughly to identify and address any performance issues, slow loading times, or broken elements. A well-optimized mobile commerce experience not only boosts conversions but also caters to the preferences of on-the-go shoppers.
13. Upsell & Cross-Sell
Leverage upselling and cross-selling techniques to maximize the value of each customer's purchase.
When a customer adds an item to their cart, suggest complementary or higher-tier products that enhance their overall shopping experience. Use strategic placement, such as on the cart page or during checkout, to present these additional offers. Provide clear explanations of the benefits or savings associated with the upsell or cross-sell items.
Consider offering bundle discounts for purchasing the main product along with its complementary counterparts. By effectively implementing upselling and cross-selling, you increase the average order value and expose customers to a broader range of products, driving revenue growth during the Black Friday period.
14. Streamline Your Checkout Process
A frictionless and efficient checkout process is essential for maximizing conversions during Black Friday. Simplify the steps required to complete a purchase by minimizing the steps and eliminating unnecessary information requests.
Offer guest checkout options to allow customers to buy without creating an account, reducing barriers to entry. Clearly display shipping costs, taxes, and any additional fees upfront to prevent surprises at the final step.
Lastly, ensure that the checkout page is mobile-responsive and easy to navigate, as many users will be shopping from their smartphones. Streamlining the checkout process reduces cart abandonment and creates a positive purchasing experience.
15. Fetch Post-BFCM Sales
The end of the Black Friday shopping period doesn't mark the end of your marketing efforts. Stay active and engaged with your audience even after the shopping frenzy subsides. Send post-purchase follow-up emails expressing gratitude for their purchases and offering incentives for future purchases.
Highlight any remaining deals or extended promotions that customers might have missed during the Black Friday event. Continue engaging on social media platforms by sharing user-generated content, showcasing products, and providing helpful tips or information.
Consider running a "Cyber Monday Week" or "Extended Black Friday" promotion to maintain the shopping momentum. Keep your email list updated and use it to share relevant content, updates, and promotions throughout the holiday season. By maintaining a strong post-BFCM presence, you can drive additional sales and cultivate long-term customer relationships.
Over To You
As an online marketer, you might always anticipate higher sales and more customer engagement, but getting customers' smooth inflow is still a tedious task.
This blog has shared some important Black Friday marketing ideas and strategies that will help you intensify your marketing campaigns and boost your sales during the Black Friday season.
Adopt the above ideas and tactics and ensure your store's best revenue this Black Friday festive season with amazing holiday marketing ideas.